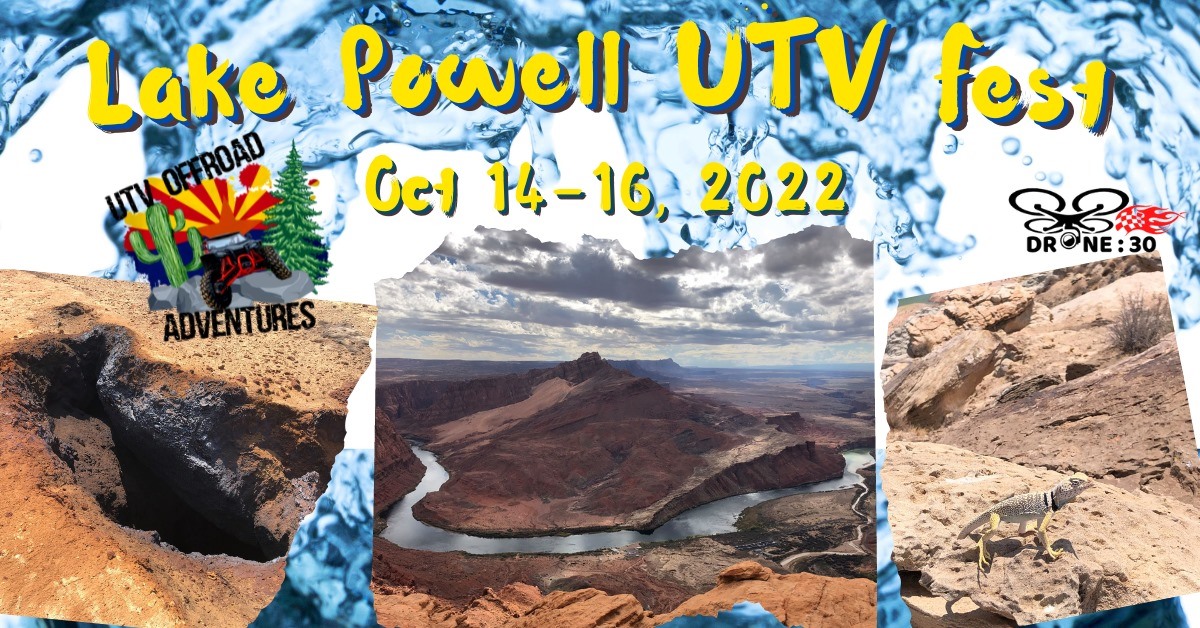 Lake Powell UTV Fest
All activities will be held at the Rodeway Inn & Suites Big Water – Antelope Canyon. There is some room in the parking area for dry camping with RV's. Located in the high desert of scenic southern Utah, Big Water is bordered by Lake Powell the Glen Canyon National Recreation Area. While every town history is unique, Big Water is especially unusual compared to Utah's other towns. Big Water began as a Glen Canyon City and it was built in the late 1950's. It was largely developed in conjunction with the construction of the Glen Canyon Dam and to be used as camp for the workers. This is a small town it is filled with lots of history and beautiful canyons.
UTV Offroad Adventures presents Lake Powell UTV Fest. You won't want to miss this weekend filled with adventure! This three-day event will take you on some of the most scenic trails Utah has to offer in safe and organized manner. We will provide guided trails, meals, quick draw poker, corn hole tournament, raffles, and lots of fun, laughs and good times. Designed for all age groups and UTV experience. Come and see what we are all about and meet new and old friends. We will take you on a night ride and guided trail rides all while raising money for AZ Kidz Experience, a nonprofit charitable organization that supports Phoenix Children's Hospital.
You will see some of the most majestic canyons, unique rock formations and scenery in addition to visiting two major overlooks including Alstrom Point. Alstrom Point is a 4,685-foot elevation landmark located in the Glen Canyon national Monument in Kane County Utah. This iconic landmark of the Lake Powell area is a cape that extends south into Lake Powell between Padre Bay and Warm Creek Bay.
The second ride will take you to a portion of the Grand Staircase-Escalante National Monument, a fire in southern Utah that has been burning for millions of years. There are large columns of smoke coming from holes in the ground. No one knows for sure how long these have been burning. A buildup of creosote on rocks surrounding the smoke holes is a clue to the fury underground. A vast underground deposit of coal was apparently set alight eons ago by spontaneous combustion or by a thunderstorm. You will be travelling on the Smokey Mountain Road which is a very scenic trail through this area. Be prepared, this road is not for the faint of heart. The elevation of the route varies between 4,500 and 6,500 feet. LOL